The recently released Bestselling Memoir – 'Hotel Adventures with the Stars,' is penned by the
International Hospitality Writer, L. Aruna Dhir, who grew up in Dehradun. Jackie Shroff, the Indian Superstar describes the book as follows, "Lucid, Witty & Engrossing…Aruna's sharp writing makes this book a captivating read!"
While Kapil Dev, the Indian Cricketer of the Century and Greatest pace bowler in the history of Indian Cricket has this to say, "I loved reading bits out of Aruna's book. They were authentic and true to what I remember. Definitely, interesting reading!!" Hotel Adventures with the Stars is a delightful compendium of delicious stories based on L. Aruna Dhir's encounters with celebrities from different walks of life, spanning the world of cinema, arts, music, sports, politics and literature. The stories are spun around Aruna's delicious encounters with Bollywood heroes like Hrithik Roshan, Sanjay Dutt and Sunny Deol; the delightsome rendezvous she had with Divas like Madhuri Dixit, Poonam Dhillon and her thrilling brushes with famous villains like Gulshan Grover and Ranjeet.
Growing up as a toddler in the pristine and picturesque Doon Valley of the 70s, Aruna would frequent the home of one of India's most well-known music legends. Ustad Vilayat Khan was a friend of her father and there were frequently held music soirees at the Maestros olde worlde house that Aruna would attend with her parents. Today, the Sitar Wizard's globally famous, Grammy nominee son, Ustad Shujaat Khan, also a name to reckon with in the world of sitar players, has this to say about Hotel Adventures with the Stars – "It is written so beautifully- the characters and personalities have been portrayed so accurately. It was a pleasure reliving a part of my life that I have left far behind, the memories come to life so Vividly……!!!"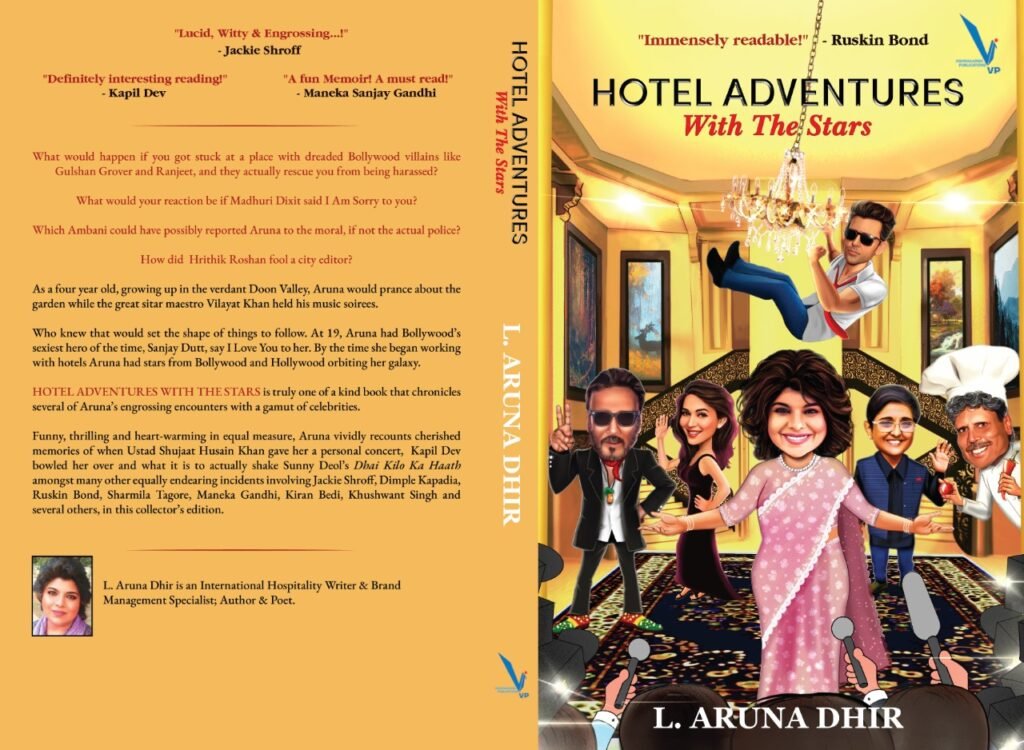 L. Aruna Dhir's writing journey began in Dehradun when she worked as a Sub-Editor and Columnist with The Himachal Times while pursuing her Masters degree in Psychology. L. Aruna Dhir is today a recognized International Hospitality Writer with her insights presented in #1 ranked global hospitality publication. She is on the Board of the Association of Commonwealth Leaders' Conferences (ACLC) – a Commonwealth Body and a Member of the World Tourism Network (WTN). A national-poll winning Communications Specialist, she has launched hospitality brands. As a Hotel PR Strategist, Aruna has worked with some of the world's finest hotels such as the Hyatt, the Oberoi Group and The Imperial. While working with international Five Star hotels Aruna had stars from Bollywood and Hollywood orbiting her galaxy.
L. Aruna Dhir has represented India to a select group of opinion-makers in the United States, as a Cultural Ambassador under the GSE Program of Rotary International. She has also participated in the IXth Commonwealth Study Conference held in Australia and chaired by Princess Anne. During the course of her checkered and exciting career, Aruna has rubbed her shoulders with a scintillating set of well-known personalities, including royalty. A clutch of them feature in highly entertaining anecdotal stories in Hotel Adventures with the Stars. Like the time Dimple Kapadia presented her handmade candles to the Author or how Aruna got to shake Sunny Deol's Dhai kilo ka Haath. Or how she cajoled and coaxed Bollywood's most dashing star Jackie Shroff to call her a Bhidu.
Hotel Adventures with the Stars chronicles several of Aruna's engrossing encounters with a gamut of celebrities. Stalwarts like Kiran Bedi, Vijay Amritraj, Kapil Dev, Khushwant Singh and legendary film grandees like Sharmila Tagore, Mira Nair, Shashi Kapoor, Zohra Sehgal intersect fascinating chapters of their lives with Aruna's in this one-of-its-kind Memoir that is being heralded by the readers and the industry as a Collector's edition. The Foreword for this enchanting Memoir has been written by the famous Master Storyteller, Ruskin Bond, who calls this unique recollection "Immensely readable." Since this Clement Town Girl has spent her formative and educational years in the Valley Town, the Memoir is sprinkled with reminiscences of life in Doon in the 70s, 80s and the 90s. In the Dehradun of the 80s and 90s, Aruna would attend many a Kavi Sammelan held at the Town Hall or the Doon Club to participate in poetry recitals in the company of notable poets of the region. Unsurprisingly then, she graduated to become a poet par excellence, and has to her credit two published poetry anthologies. Aruna has the distinction of being India's first-ever Creative Writer with Archies Greetings, with several series of cards sold under her by-line – an unprecedented feat that has not been repeated since. The milestone puts her in the league of Helen Steiner Rice, Susan Polis Schutz and Amanda Bradley. Hotel Adventures with the Stars is her third Book, but her Debut Non-fiction. In less than 24 hours of its pre-order link being put up, "Hotel Adventures with the Stars" debuted at the  #2  spot on the Hot New Releases and at  #25  spot on the Bestseller List of Biographies, Autobiographies and True Accounts, in a list that had President APJ Abdul Kalam's Autobiography at #1!! 
Since its launch, Hotel Adventures with the Stars has continuously popped up on the Bestseller list, to sit as a neighbour with the Man of the Hour, Elon Musk's Biography and to be ahead of other popular biographies such as Priyanka Chopra Jonas' Unfinished and Dr. NR Narayana Murthy's Biography. It is of little wonder then that "Hotel Adventures with the Stars" has received exceptionally noteworthy endorsements from a string of superstars. "L. Aruna Dhir is an extremely engaging writer. She involves you in her stories and entrances you with her beautiful writing. What a fine time travel the Memoir allows into nostalgia!" affirms the Super Cop woman, Dr. Kiran Bedi.
"Aruna is a Master-weaver. She has woven a colourful tapestry with gossamer threads to create a
design of sensitive beauty," says Sonal Mansingh, Padma Vibhushan Odissi classical dancer and
Cultural Icon of India. Get your copy of the Memoir, at a Bookstore near you or in the virtual marketplace anywhere in the world! Hotel Adventures with the Stars, not only takes you on a nostalgia ride but also gives you a close peep into the lives and personas of famous people you usually see across the big screen, bringing them to you up, close and personal. The Memoir will enthrall and regale you long after the last story has been read and the book kept away on your bookshelf in its pride of place!