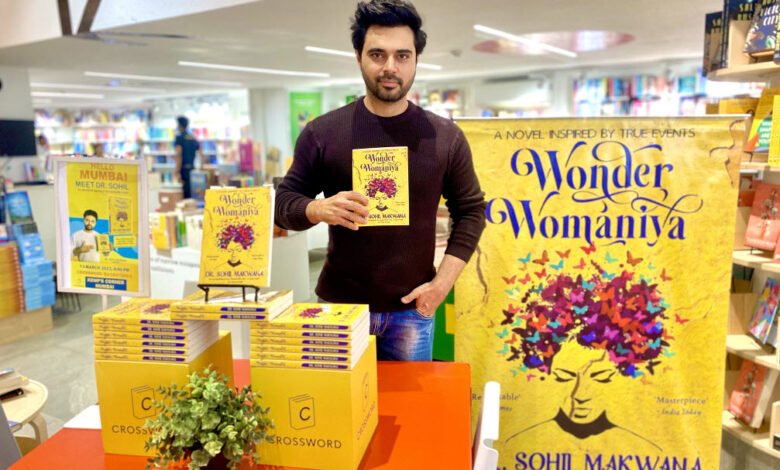 'Dr. Sohil's Wonder Womaniya' India Tour has started its journey from Delhi on 30 March, and progressing at Dehradun on April 2, 2023, at Crossword Bookstore, Centrio Mall, Dehradun.
It's officially Women's Month! And what better way to celebrate the fierce, bright, and brave nature of women than by meeting an empowering character that celebrates a selection of her show-stopping story? Meet such an outstanding characters, Ambika Jatav, a witty memer, a bold typhoon and a rare bird of Wonder Womaniya, or Komal Majbootsingh Rathod, the kick-ass female protagonist of forensic crime-thriller duo-logy Murdrum created by Dr. Sohil Makwana that is winning the hearts all over the globe.
It's not that difficult to understand why Dr. Sohil Makwana's debut novel series, "Murdrum The Probe Begins" (2021) and "Murdrum 2: Double Trouble" (2022), became bestsellers, based largely on word of mouth and their popularity among book clubs and reading groups. Those forensic crime thriller novels like a kind of modern-day variation on Conan Doyle's "Sherlock Holmes", in which the protagonist Komal Rathod explores the hunt of a heinous serial killer with meandering twists and breathtaking turns. They not only gave readers the idea of advancement in forensics and acquaintance with bizarre diseases, but they also showed off their author's freshness and very novel storytelling talents: his taste for melodramatic plot-lines; sharply drawn, courageous and mysterious characters; and primitive audacious
emotions.

While a number of crime books and television programs revolve around a powerless woman who is harmed by a man, "Murdrum" was a rise of a woman. Whereas it focused on women empowerment by building thrill and suspense, Dr. Sohil's latest novel, "Wonder Womaniya", focuses on women
empowerment by creating humour and social drama, of course with the help of bizarre disease as
Dr. Sohil is the master of creating medical fictions inspired by true events, and he has justified his skills to grab the reader from the page one, again, as he did in Murdrum series. From the legendary undercover agent Vidya Bagchi of Kahaani to senior inspector Shivani Roy of Mardaani, there's no shortage of feminist tales that explore the hunt of heinous devils. But, what is special about ambitious CBI trainee Komal Rathod of Murdrum is her struggle and conflict at every stage of her life. She displays a rigid work ethic and strong belief in crime-fighting, motivated by the kidnapping of her pregnant mother when she was seven. She is a highly capable forensic expert and a strong candidate for crime scene investigator. In one scene, she extracts human blood from the belly of a mosquito, and successively, human DNA from that extracted blood, and establishes the hypothesis that the same DNA belongs to a killer. The first installment of the Murdrum series packs a winning formula, by frightening, enchanting, disturbing, and intriguing its readers all at once. Any reader who tries to guess the plot and story line what will happen next is more than likely to be wrong. The thriller blended with humour picks up from page one and gives you spine chilling ride. Three pages before the end, Dr. Sohil throws a huge twist. The second last page transforms your hate into love, and on the last page, he leaves you on a mind-blowing cliffhanger. What a ride!

The second part, Murdrum 2: Double Trouble starts with a bang. By now, the total murder count has reached 26, and Komal is still determined about getting this mystery solved. She makes use of various high-end forensic technologies to decode the mystery behind the two blue dots and the second part is so gripping and well written that you could complete the book in a single day. It would leave you with a wave of shock to know who the killer was, and what was the hidden message behind his cipher saying "SAW NOTHING". In the case of "Wonder Womaniya", Dr. Sohil quickly makes it clear that he intends to deal with the plight of women, and in the opening pages a female stand-up comedian talks sarcastically about women's safety, fake feminism, body shaming and size matter, the current scenario of women in post-feminism era, the unhappy relationships, oppressive boy-friends and repressive cultural mores, and the disdain of society. On the next page, she tells the story of a Wonder Womaniya, Ambika, the modern Goddess who has served mankind for years. People say women belong to the weaker sections of the community. Hence men dominate women, and sometimes men exploit women for their pleasure.
Here, Dr. Sohil Makwana spins his yarn well and discusses social stigmas like eve-teasing and exploitation of women based on fake promises. The light-hearted opening quickly gives way to even more entertaining events, and Sohil introduces a jovial protagonist Ambika Chamar, the character of a memer that has never been portrayed before.
Ambika is witty. She is a fearless hurricane and a rare bird. She lives with a sole plan – The Plan M3 Memes, Momos, Munnas! She is aware of the lichenous desires of men, and when a guy asks her for a date, she replies, "Na baba na! Pahle aap dil main utroge… Phir haramipane pe…!"Jumping off
a cliff was easier than tricking her, but she falls head over heels for Amar. Her life turns upside down when she is diagnosed with a bizarre disease. Destiny has plotted her happiness on the seismograph. Hence, before she copes with the catastrophe, she gets another blow, a blot on her escutcheon. The Richter's scale is shuddered getting the magnitude of her melancholy; however, the bizarre disease showers blessings in disguise, and she serves mankind for years. Later, Ambika, the Wonder Womaniya, receives an award of "The Women Of The Decade." Ambika is the character that makes you laugh and think simultaneously, often on the same page. Her amusing dialogues and behaviour pull the readers closer to her and establish a strong connection that makes them cry, too, with her bittersweet tale. Ambika is bold and brave. She openly condemns the lewd mentality of men by saying, "Travelling in public transport in our country is all about protecting your boobs from random strangers." The story gathers rapid momentum from the beginning and shows little sign of slowing down till the climax. In a way, the journey of Ambika hooks the readers early on and never lets them go. As Dr. Sohil develops the few main
characters in the story, he rapidly moves back and forth between them, keeping the reader focused so as not to lose track of the plot. The incredible tale of Wonder Womaniya is whistleblowing, compelling, and surprisingly untold despite every human being is attached to that emotion since birth. In the end, Ambika converses about the serious issues raised during the life journey of every woman in a humorous way, and Dr. Sohil dedicates the novel to the real Wonder Womaniya by whom the story is inspired that makes
this novel so stirring. Dr. Sohil writes with a rare intensity. He writes in straight-ahead, realistic prose and creates the character of Ambika who has simplicity and primary- colored emotion. The sympathy he conjures for her stems less from her personality than from the tragicomic circumstances in which she finds herself.

The writing is scalpel-sharp and uncluttered. The pace is fast, and the development through character is commendable. The layers of facts hit like a wrecking ball every time she talks sarcastically and make you think twice. The climax is intriguing. It has poetic justice to it. The novel is beautifully written with descriptive details that will haunt you long after you finish reading it. Who was Wonder Womaniya, and what was her Plan M3? Would she get him back? How would she serve mankind? As the readers were curiously waiting for his latest medical fiction, it didn't take time for Wonder Womaniya to climb the chart and the book had become best-seller with in 2 days of the release. Highly recommended! Wonder Womaniya is exceptional, outstanding, the one in million tale of women empowerment that you need to add to your TBR pile. And, do not miss him to catch him Live this time here in Dehradun.

When: 2 April, 2023 | Timimgs: 6pm ownards
Venue: Crossword Bookstore, Centrio Mall Dehradun
For More Details Follow Dr. Sohil on Instagram
www.instagram.com/dr_sohil